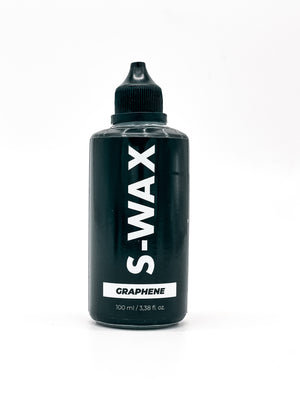 Session USA
S-WAX GRAPHENE - Chain Lube
Sale price Price $25.00 Regular price $33.00 Unit price / per
THE ORIGINAL BRAZILIAN WAX!
S-Wax Graphene is a Wax based lubricant that can be used in ALL conditions.
It is a long lasting lube, designed for Endurance riders, one application can last up to 300 miles.
Graphene is what makes S-Wax so durable, almost 3x mores miles than our regular S-WAX, it also offers more protection to your drive train and less friction ! 
Less friction = More Watts.
Recently, S-WAX was tested by Zero Friction Cycling Lab and it was ranked among the TOP 5 drip lubricants on Wet and Dry Contamination tests.
Using S-Wax Graphene you can save energy and time, going further and faster.
Our product also saves you time off the bike, it is easy to apply, easy to clean and once you start using it, you will never need to degrease your chain.
* More miles on one application
* Biodegradable
* Less Friction
* More WATTS 
* More protection to your drivetrain 
* Gear will last even more
* Easy to Apply and Easy to Clean
Instructions are the same as our other dry lubes :
* On a dry, clean and degreased chain, apply one drop on each link
* Pedal it backwards, it helps to spread S-Wax evenly on your chain.
* Let it dry for a couple of hours (for best results let it dry overnight)
* Go ride
*When you get back, clean your chain with a dry cloth
* Apply it again (if needed) and let it dry.
* Ride again


• For best results, on the first time using S-Wax, we recommend applying it twice before riding. 
Bottle : 100 ml (3.38 fl. oz.)
More info about Graphene and Chain Lube:
https://sessioncomponents.com/blogs/blog/graphene-chain-lube
MADE IN BRAZIL 🇧🇷